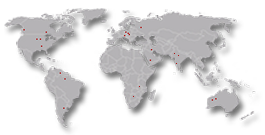 As an institution promoting world-class research through renowned researchers and mentors of international repute, corporate leaders, faculties and students from allied institutions, the International Association of Research Scholars (IARS) is a globally acclaimed name when it comes to research across variegated fields.
IARS: Vista of the World of Research
International association of research scholars (IARS), an organization conceived in 1980 and finally unveiled in 2011, has come to be revered by thousands of members of research institutions worldwide. Striving to become a leader in supporting research and uniting the efforts of researchers all over the world, it encourages their sharing and exchanging of ideas, thoughts, information, beyond continental boundaries.
IARS has been making prime efforts in opening communication and offering to encourage, organize, and promote international research. IARS is an international connotation for researchers from diversified fields of explorative studies. IARS today has earned a great reputation and respect across globe with thousands of member individuals and research institutions. IARS is playing an influential role in global promotion of research activities through collaborative research efforts. IARS offers to the globe an open communication forum for promotion of global research activities.
---